UV LED Wafer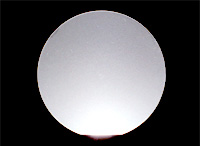 We start to provide UV LED wafers which are produced with epitaxial growth using our proprietary technology.
The products line-up of UV LED wafers are 355nm, 360nm, 365nm, 370nm, 375nm.
Those UV LED wafers are producesd using our original designed MOCVD at our own factory in Japan. We also provide UV LED chips (die) and UV LED lamps which are made from our UV LED wafers. We are offering other epitaxial wafers to meet your needs.
Please contact us to discuss wafer specifications including other wavelength, size, layer thickness, and epitaxial design.
UV LED Wafer
Model No.
Size
Peak
Wavelength
λp (nm)
Optical
Output Power*
Po (mW)
Note
Min.
Typ.
Max.
Max.
NS355W
2inch
355
-
360
1.0
IF=20mA
NS360W
360
-
363
1.0
IF=20mA
NS365W
363
-
370
1.5
IF=20mA
NS370W
370
-
375
2.5
IF=20mA
NS375W
375
-
380
3.5
IF=20mA
*Optical output power is depend on how to process. The above shows Optical output power of bare chip ( IF=20mA ) if it is processed by us.
The basic design of epitaxial wafer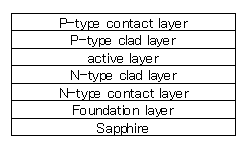 ---