n-GaN/p-GaN/u-GaN Wafer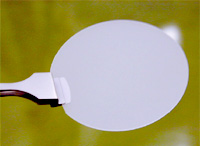 We are supplying n-GaN, p-GaN, u-GaN which are produced with epitaxial growth using our proprietary technology.
For your future request, we are offering other designed GaN.wafer, InGaN and AlGaN.
Please contact us to discuss wafer specifications in detail.

SPECIFICATIONS
Epi wafer diameter
2 inch
Epi layer
GaN
Thickness of GaN epilayer
2-10
Structure of GaN epilayer
Wurtzite
Orientation of GaN layer
(0001)
Conductivity
N-type
P-type
undoped-type
Surface
as grown
Substrate
Sapphire
Substrate orientation
(0001) on-axis
*No buffer layer is required.

---