UV LED Chip (die)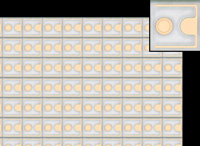 We are supplying the reliable and high power UV LED chip (die) to the world.
From 355nm to 375nm UV LED chips are available.
You can use our UV LED chip effectively and laconically.
Because those are made demarcations according to rank by optical output power.
Please click here if you request for quotation.
---
NS365/375C-3SAA

CATALOG(PDF/165KB)

(Ta=25°C)
Model No.
Size
(µm)
Peak
Wavelength
λp (nm)
Forward
Voltage
Vf (V)
Optical
Output Power*
Po (mW)
Note
Min.
Typ.
Max.
Typ.
Max.
Max.
NS365C-3SAA
SPECIFICATION
(PDF/216KB)
600 x 600
363
-
370
3.6
4.2
20.0
IF=100mA
NS375C-3SAA
SPECIFICATION
(PDF/219KB)
375
-
380
3.6
4.2
35.0
IF=100mA
---
NS355/360C-2SAA

CATALOG(PDF/123KB)
NS365/370-2SAA

CATALOG(PDF/123KB)
NS375C-2SAA

CATALOG(PDF/117KB)

(Ta=25°C)

Adobe Reader is a free web browser plug in that allows you to view and print Adobe Portable Document Format (.pdf) files.
Click on the graphic below to link to Adobe's web site where you can download Adobe Reader.
If you have a problem to open the pdf files, please try once again after download the Asian font pack for Japanese.
https://www.adobe.com/products/acrobat/acrrasianfontpack.html

---