Deep UV LED COB
It is a product with a high output power and high reliability by mounting 16pcs of 275nm bare chip on a highly heat-dissipating Al substrate.
Please click here if you request for quotation.
NS275B-44FA

CATALOG(PDF/186KB)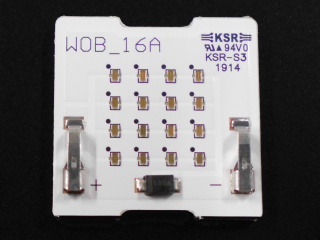 This product is under development.
Feature
World highest optical output power of 145mW (IF:400mA)
Long life time of about 5,000 hours
High cost performance by mounting bare chips directly on Al substrate
Energy saving and economical compared with UV marcury lamp
Thin compact and safe without scattering of glass at the damage
(Ta=25°C)
Model No.
Size
L x W x H
(mm)
Peak
Wavelength
λp (nm)
Forward
Voltage
Vf (V)
Optical
Output Power
Po (mW)
Forward
Current
If (mA)
Typ.
Typ.
Max.
Typ.
NS275B-44FA

20 x 20 x 4
275
23
28
145
400
---

Adobe Reader is a free web browser plug in that allows you to view and print Adobe Portable Document Format (.pdf) files.
Click on the graphic below to link to Adobe's web site where you can download Adobe Reader.
If you have a problem to open the pdf files, please try once again after download the Asian font pack for Japanese.
https://www.adobe.com/products/acrobat/acrrasianfontpack.html

---